Published Works
The Queen of Crows
Centered around a short story entitled "The Queen Of Crows," I designed a unique product that I hope you'll really enjoy. At a retail price of $4.99, you will receive a magazine-style layout of THE QUEEN OF CROWS, a professional illustration of a character named Mahochepi and more!
This product is the first digital release set in the world of the Violet War and is also the first fiction product published through Flames Rising Press. The short story, which is entitled "The Queen of Crows," takes place during the 1860s and focuses on the tough decisions that a Navajo elder named "Tse" must make to save his people. Will he summon Mahochepi, the Queen of Crows, without knowing who–or what–she is? Read the story and find out!
Download THE QUEEN OF CROWS e-book at DriveThruHorror.com.
Buried Tales of Pinebox, TX
Welcome to Pinebox, a sleepy little East Texas town with more than its share of trouble. Whether it's the snake cultists running the local bar or vengeful spirits haunting the high school boys locker room, there always seems to be some sort of trouble brewing just below the surface. Join us for a dozen tales of horror from these haunting voices in fiction.
I was asked to write a short story for a new horror collection from a small press publisher called "12 to Midnight." My tale is about one of the many creatures you'll find in the town of Pinebox, Texas, where things are not always what they seem. This book includes stories from David Wellington, Jess Hartley, Shane Hensley, Derek Gunn and more. This anthology won the award for Best Anthology of 2009 on the Preditors & Editors Reader's Poll.
Visit BuriedTales.12toMidnight.com for author bios, audio previews, reviews and other information.
Buried Tales of Pinebox, Texas is available in eBook format at DriveThruHorror.com and in print at Amazon.com (Amazon also has a Kindle edition available).
Tales of the Seven Dogs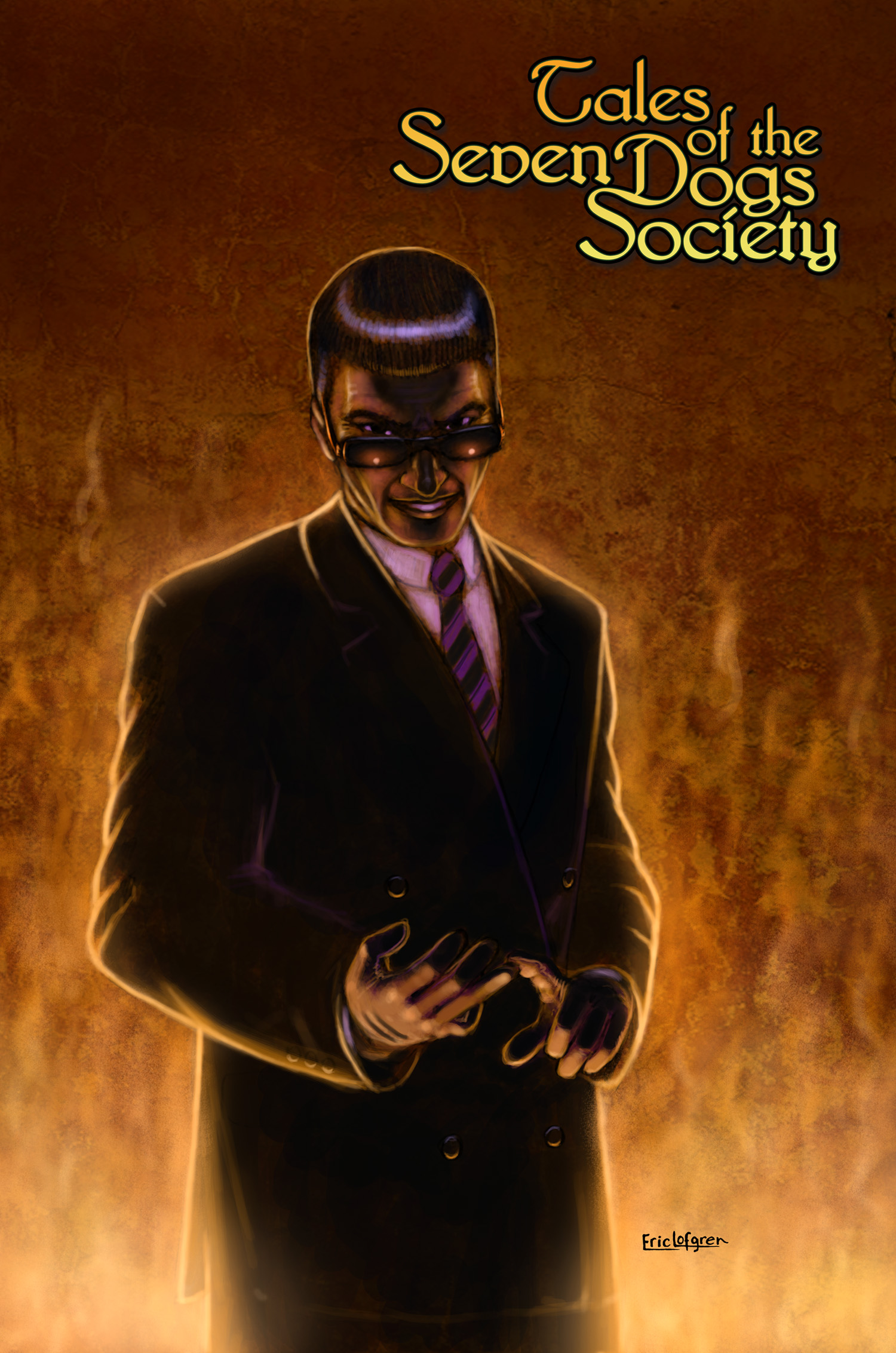 Written in the first person, TWIN DESIGNS is a tale of two brothers named Ralph and Edgar Whitman. Each of the twins have the ability called "Presque Vu," which enables the gifted to see whether or not an event is part of the grand design.
Typically, a person who has this sight will also receive an epiphany or "flash," providing him (or her) with a brief insight afterward. Together they explore crop circles, ghosts, a mysterious piece of paper covered in cryptic writing, and the mansion called Hepta Sophistai under the leadership of Terrance Chastain.
The book is comprised of three novellas written by myself and two other writers. My novella has more of a literary take.
Tales of the Seven Dogs Society is available at Indie Press Revolution and DriveThruFantasy.com.
Cursed Empire Warrior-Priest Class Book by Spartans Unleashed
The Warrior-Priest Class Module provides additional material for players and Masters of Tales alike as well as bonus material beyond the scope of the class itself for other players. A selection of renowned temples has been provided to enrich the game setting including a handful of maps ready to be used to kick a campaign off or run a single scenario. A complete scenario (Congregation of Shadow) is included in the book.
Featuring Cursed Empire Fiction
The story featured in this game is based on a traditional fantasy setting which was developed by a publisher in the UK.
Published Games
Nonfiction
Family Games: the 100 Best
Family Games: the 100 Best now available! Edited by acclaimed author and editor James Lowder, this book is published by Green Ronin.
In Family Games: The 100 Best, top designers and publishers write about the most enjoyable, most cleverly designed titles of the last one hundred years. Their essays cover the spectrum from board games to card games, wargames to miniatures games to role-playing games, including old favorites and little known gems. These are the games that the designers themselves play, the ones that have inspired their most popular inventions.
Available through Amazon.com and a number of other places.