Read
Thank you for taking an interest in my work. If you want to read or listen to a free sample of my fiction, here are a few options for you.
Sample of ARGENTUM
I would like to provide you with a behind-the-scenes look at the novel I've been working on. You may read the first draft of the initial three chapters on this site for free. These chapters were originally published here, on the website, to garner feedback from readers. They are an important part of the novel-writing process, and I am happy to share them with you here.
Flavor Fiction Fridays
If you're interested in this setting, I am offering free flavor fiction on Fridays through the blog for a limited time. To participate, you can subscribe to the blog's RSS feed via the links in the upper right hand corner of the site. If you wish, you can also click here to read free fiction that has already been published.
"Prey" on Pseudopod.org, a Horror Podcast Site
This work of horror flash fiction was written by me and published through Pseudopod.org. This same piece won an Honorable Mention in the MirrorMask writer's competition through FutureFire.net.
You can listen to the 4:46 minute mp3 for free on the Pseudopod.org website:
Read the transcript and listen to the mp3 podcast of Prey for free!
White Wolf eQuarterly Summer 2007 by White Wolf Game Studios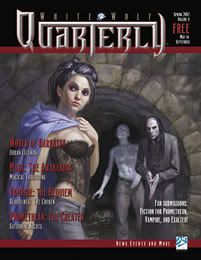 Looking for information about what is coming next? Want to stay ahead of the game? Curious about a particular future release? Well, you are in luck. The new White Wolf eQuarterly is ready for your downloading pleasure!
Featuring Promethean: the Created Fiction by Monica Valentinelli
PROMISES, PROMISES was originally submitted to White Wolf Publishing as part of a fiction contest. Set in the World of Darkness, this story ended up winning the contest and was published in their free magazine for their fans.
Available as a free download at White-Wolf.com
If you've liked any of my stories, I ask that you consider supporting my work by making a small contribution.
Thank you!