Author Info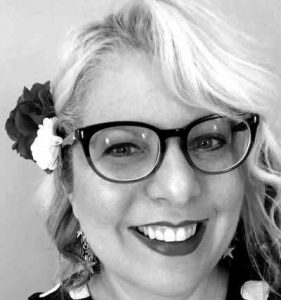 Monica Valentinelli is a writer, artist, and game developer who lurks in the dark. She writes both original and media tie-in fiction and works on games and comics, too.
A frequent guest at conventions, Monica is best known for her work related to the Firefly TV show by Joss Whedon. She was the lead writer and developer for the award-winning line of Firefly RPG books, and also wrote the Firefly: The Gorramn Shiniest Language Guide and Dictionary in the 'Verse which was released from Titan Publishing in April 2016. A veteran with over ten years of gaming experience, she has worked on several other games including Dread Names, Red List for Vampire: the Masquerade and "In Volo's Wake" for Dungeons & Dragons Fifth Edition.
Her publications also include many stories such as "Tomorrow's Precious Lambs" for Extreme Zombies and "The Dig" for the Lovecraft Zine, and several anthologies. For example, Monica successfully crowdfunded Upside Down: Inverted Tropes in Storytelling with Apex Book Company. The co-edited collection, which earned a Publisher's Weekly starred review, was released in December 2016. Her debut comic Last Man Zombie Standing was published in 2013 as part of the Unfashioned Creatures: A Frankenstein Anthology from Red Stylo Media. You can discover more of the author's publications through her list of published stories or her list of published games.
Monica's non-fiction repertoire spans both digital and print works and includes online articles, worldbuilding games, reference materials, and essays. She has written for sites including HowtoWriteShop.com, Sony's Crackle.com, SFWA.org, GeeksDreamGirl.com, and BookLifeNow.com. Her essays have also appeared in books such as Family Games: The 100 Best, The Bones: Us and Our Dice, and For Exposure: The Life and Times of a Small Press Publisher.
Monica holds a B.A. in English with a Creative Writing Emphasis from the University of Wisconsin-Madison. She lives with two very spoiled cats nicknamed Lord Lardbottom and Captain Whinypants, an albino water frog named Al, and her long-time partner. In addition to writing and editing, she enjoys traveling, designing jewelry, cooking, taking photos, gaming, watching anime and martial arts movies, exploring old places, and hiking. She is represented by Jennie Goloboy from Red Sofa Literary.
For more about Monica, you can subscribe to her weekly newsletter.

Awards & Accolades
The Firefly RPG corebook was nominated for the Product of the Year and the Game of the Year in the 2015 ENnie Awards.
Echoes of War: Thrillin' Heroics won a Judge's Spotlight Award in the 2015 ENnie Awards.
The Firefly RPG was nominated for Game of the Year in the 2015 Origins Awards.
The Escapist nominated the Firefly RPG for Game of the Year 2014.
Eclipse Phase: Rimward was nominated for a 2013 Origins Award for Best Roleplaying Supplement and a 2013 ENnies Award for Best Production Values.
"Promises, Promises" won first place in a submission contest for White Wolf Publishing. The story was then published in the 2007 Spring Edition of White Wolf Quarterly.
"Prey" won an Honorable Mention through the MIRRORMASK 2005 fiction competition sponsored by FutureFire.net.
UNFRAMED: the Art of Improvisation for Game Masters was nominated for two 2015 Golden Geek Awards, Best Supplement and Best Artwork & Presentation.
FlamesRising.com won a Silver ENnie through the hobby games industry awards at GenCon: Indianapolis in 2008.